CMC 033
MERCEDES W 25 1934
Model M-033 is temporary soldout.
Advance order is possible (regular online-shop order).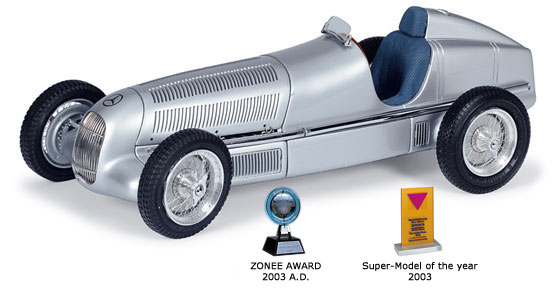 2nd of June 1934: On the evening before the Eifel Race at the Nürburgring the acceptance examination takes place for the cars attempting to enter in the new 750 kg racing formula. The weighin of the shining white Monopostos shows a weight of 751 kgs. A catastrophy, it means a prohibition for the start. But the Mercedes crew don't give up. That one kilogramm has to be reduced somehow. Finally an ingenious solution: All they had to do is to remove the paintwork. So all night long in sweat-pouring work the paint is sande off completely.

In the morning a shooting star in its shining silver aluminium body is at the start, weighing exactly 750 kgs – and it wins! A rousing victory for Mercedes-Benz and the driver Manfred von Brauchitsch.

The enthusiastic press named the racing car "Silver Arrow". Rightly so, then of the eight Grand Prix races in the first season the silver shots win four first and three second places.

A myth is born, which has lost none of its magic to the present day.

The Mercedes-Benz Silver Arrow W 25 is a veritable collectors piece for all Silver Arrow- and model fans and should not be missing from any collection.
Technical data of
the original vehicle:

• 8-cylinder-compressor-engine • Displacement: 3.364 cm3 • Maximum output: 354 hp at 5.800 rpm • Topspeed: 300 km/h • Single wheel suspension of the front axle • De-Dion rear axle
Into the category
Mercedes
, you can find the following miniatures (MERCEDES 600 S, Mercedes Benz L3500 PLATEAU Porsche, Mercedes Benz 600 PULLMAN 1966, Mercedes Benz 770 K 1937 GROSSER MERCEDES, Mercedes Benz Classe S PULLMAN, ...):